Youth soccer and youth football registration is over.  Practices start soon!
If you are experiencing difficulty getting current CKCPRD information, please try clearing out your browsing history. Some internet browsers will retain previous sessions causing errors.
Special Pool Hours
Come Swim With Us!  Lap Swim, Water Aerobics, Swim Lessons, Open Swim – Fun for Kids and more
Summer is here, but coming to an end soon.  Fall hours start Tuesday September 4th.  The swim pool will close for the season on Saturday September 15th 
Labor Day Hours: 
 Monday September 3rd
NO MORNING SWIM
2-5:30pm: Open Swim
5:30-6:30pm: Adult/Lap/Aerobics
Swimming
Lessons
Swim lessons are over for the 2018 season!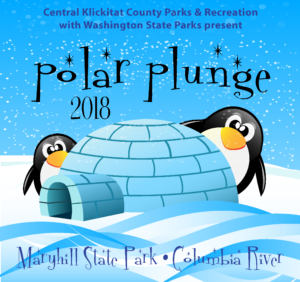 2018 Polar Plunge- Another successful plunge!
52 brave people joined us on New Years Day for the 11th annal Polar Plunge held at Maryhill State Park.  The weather outside was 31 degrees and the water was 37 degrees.  Great fun had by all!
This annual tradition is a fund raiser for the Central Klickitat County Park & Recreation District.  Maybe you don't want to plunge, you could always donate to have someone else plunge, or just come and watch the fun and fast event.  Whatever you do, don't be late! The Plunge starts at 10am and ends a few seconds later.
We are happy to report that January 1, 2018 is a free admission day to all Washington State Parks, so you won't have to use your discover pass nor pay admission the park.
For more information call the swimming pool at (509) 773-0506.
About
The Goldendale Pool is a part of Central Klickitat County Parks and Recreation District. You can find a number of pages here devoted to other parts of Central Klickitat County Parks and Recreation. For more information about the Goldendale Pool, please contact us –we'd be glad to hear from you!
The Central Klickitat County Park & Recreation District Board meets on the second and fourth Wednesdays of the month at 6:30pm in the "swim pool" meeting/party room.  The public is welcome to attend!